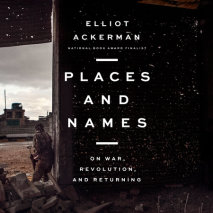 From a decorated Marine war veteran and National Book Award Finalist, an astonishing reckoning with the nature of combat and the human cost of the wars in Iraq, Afghanistan and Syria.

"War hath determined us ..." - John Milton, Paradise Lost

Toward the beginning of Places and Names, Elliot Ackerman sits in a refugee camp in southern Turkey, across the table from a man named Abu Hassar, who fought for Al Qaeda in Iraq, and whose connections to the Islamic State are murky.
From the National Book Award finalist, a breathtakingly spare and shattering new novel that traces the intersection of three star-crossed lives.

Eden Malcom lies in a bed, unable to move or to speak, imprisoned in his own mind. His wife Mary spends every day on the sofa in his hospital room.