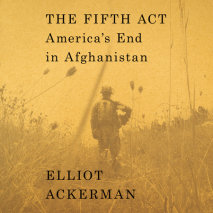 A powerful and revelatory eyewitness account of the American collapse in Afghanistan, its desperate endgame, and the war's echoing legacyElliot Ackerman left the American military ten years ago, but his time in Afghanistan and Iraq with the Mar...
From two former military officers and award-winning authors, a chillingly authentic geopolitical thriller that imagines a naval clash between the US and China in the South China Sea in 2034--and the path from there to a nightmarish global conflagrati...
From the widely acclaimed author of Waiting for Eden: a stirring, timely new novel that unfolds over the course of a single day in Istanbul: the story of an American woman attempting to leave behind her life in Turkey--to leave without her husband.Ca...
One of NPR's Best Books of 2019"Lyrical . . . A thoughtful perspective on America's role overseas." —Washington PostFrom a decorated Marine war veteran and National Book Award finalist, an astonishing reckoning with the n...
"Patiently, and unflinchingly, Ackerman is becoming one of the great poet laureates of America's tragic adventurism across the globe." —Pico Iyer Eden lies in a hospital bed, unable to move or speak. His wife Mary spends every...