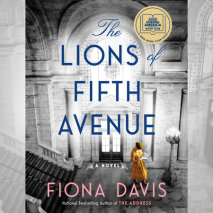 In nationally bestselling author Fiona Davis's latest historical novel, a series of book thefts roils the iconic New York Public Library, leaving two generations of strong-willed women to pick up the pieces. It's 1913, and on the surface, Laura Lyons...
The bright lights of the theater district, the glamour and danger of 1950s New York, and the wild scene at the iconic Chelsea Hotel come together in a dazzling new novel about a twenty-year friendship that will irrevocably change two women's lives&md...
In this captivating novel, national bestselling author Fiona Davis takes readers into the glamorous lost art school within Grand Central Terminal, where two very different women, fifty years apart, strive to make their mark on a world set against the...
From the author of The Dollhouse and The Masterpiece comes the compelling national bestselling novel about the thin lines between love and loss, success and ruin, passion and madness, all hidden behind the walls of The Dakota...
Enter the lush world of 1950s New York City, where a generation of aspiring models, secretaries, and editors live side by side in the glamorous Barbizon Hotel for Women while attempting to claw their way to fairy-tale success in this debut novel from...