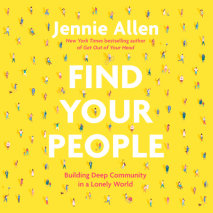 The New York Times bestselling author of Get Out of Your Head offers practical solutions for creating true community, the kind that's crucial to our mental and spiritual health.In a world that's both more connected and more isolating than ever before...
NEW YORK TIMES BESTSELLER • You can choose hope in the midst of chaos. The visionary behind the million-strong IF:Gathering challenges you to exercise your God-given power to shift negative thinking patterns and take back con...
NEW YORK TIMES BESTSELLER • ECPA BESTSELLER • "When it comes to the intersection of race, privilege, justice, and the church, Tasha is without question my best teacher. Be the Bridge is THE tool I wish to put in every s...
Discover how yielding ourselves wholly to God, especially in the midst of challenging circumstances, lends new purpose to our lives. "Vivian Mabuni is a kind and trustworthy guide through one of adulthood's secrets: life doesn'...
Lauded by Ann Voskamp as "what your soul is begging for," this bestseller from the founder of the million-strong IF:Gathering invites you to stop striving and discover the answer to your soul-deep thirst.   All too many of us strugg...