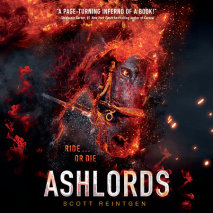 Red Rising meets The Scorpio Races in this epic fantasy following three phoenix horse riders--skilled at alchemy--who must compete at The Races--the modern spectacle that has replaced warfare within their empire.Every year since the Ashlords were gif...
Side characters can be heroes too in this charming and fast-paced adventure that is The Land of Stories meets The Phantom Tollbooth!Indira has been a character-in-waiting her entire life. So she can't believe her luck when she's finally chosen to tra...
"Brilliant concept meets stellar execution in this fast-paced deep space adventure. I was hooked from page one." --VICTORIA SCHWAB, #1 New York Times bestselling authorIn the highly anticipated Nyxia Triad series finale, Emmett and the Genesis team m...
"File this book under A for Amazing." -Jay Kristoff, New York Times bestselling authorDiscover book two in the sci-fi space trilogy that Bustle described as "The 100 meets Illuminae" and Marie Lu called, "a high-octane thriller."Emmett Atwater though...
"A high-octane thriller . . . Nyxia grabs you from the first line and never lets go." —Marie Lu, #1 New York Times bestselling author of Warcross Every life has a price in this sci-fi thriller—the...