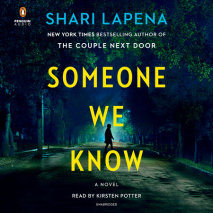 The new domestic suspense novel from New York Times bestselling author, Shari LapenaMaybe you don't know your neighbors as well as you thought you did . . . "This is a very difficult letter to write. I hope you will not hate us too much. . . My son b...
AN INSTANT NEW YORK TIMES BESTSELLER The twisty new thriller from the New York Times bestselling author of The Couple Next Door and A Stranger in the HouseA weekend retreat at a cozy mountain lodge is supposed to be the perfect getaway . . . but...
An instant New York Times bestseller. Look out for Shari Lapena's next thriller, A STRANGER IN THE HOUSE, coming August 2017.Anne and Marco Conti seem to have it all--a loving relationship, a wonderful home, and their beautiful baby, Cora. But one ni...
A perfect holiday gift.Shari Lapena's new thriller, AN UNWANTED GUEST, is available now!"Smart and suspenseful. . . you'll never see the ending coming." --PureWowIn this neighborhood, danger lies close to home. A domestic ...