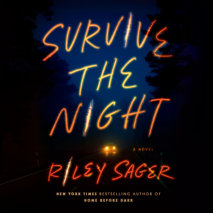 It's November 1991. George H. W. Bush is in the White House, Nirvana's in the tape deck, and movie-obsessed college student Charlie Jordan is in a car with a man who might be a serial killer. Josh Baxter, the man behind the wheel, is a virtual ...
THE INSTANT NEW YORK TIMES BESTSELLEROne of . . . Huff Post's "10 Of The Most Anticipated Book Releases Of June 2020" • Good Housekeeping's "The 35 Best Books of 2020 to Add to Your Reading List" &bu...
THE INSTANT NEW YORK TIMES BESTSELLEROne of . . . Parade's "Most Anticipated Books of Summer 2019" • PureWow's "The Best Beach Reads of Summer 2019" • BookBub's...
In the latest thriller from the bestselling author of Final Girls, a young woman returns to her childhood summer camp to uncover the truth about a tragedy that happened there fifteen years ago.Two Truths and a Lie. The girls played it all the time in...
THE NATIONAL AND INTERNATIONAL BESTSELLER • WINNER OF THE 2018 INTERNATIONAL THRILLER WRITERS AWARD FOR BEST HARDCOVER NOVEL"The first great thriller of 2017 is here: Final Girls, by Riley Sager. If you liked Gone Girl, you&rsquo...