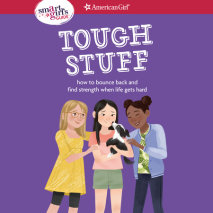 Everyone faces some tough stuff—from bullying to body image issues, friendship stress to family struggles, and panic attacks to pandemics. How do you navigate tough times? With a little resilience.   This audiobook shows you how to bounce...
In this first book of her series, catching waves on her board, Joss Kendrick is all in, 100%.   When the surf's up, Joss pops out her hearing aid, hops on her board, and paddles into the waves. Joss is stoked to enter a surfing video conte...
In this second book of her series, Joss Kendrick is always looking for new ways to soar. When the cheer team needs a new flyer, Joss can't wait to step up (literally). Her high-flying skills on her surfboard and skateboard make her a natural fo...