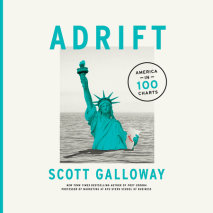 From bestselling author and NYU business school professor Scott Galloway comes an urgent examination of the future of our nation – and how we got here.We are only just beginning to reckon with our post-pandemic future. As political extremi...
New York Times bestseller! "Few are better positioned to illuminate the vagaries of this transformation than Galloway, a tech entrepreneur, author and professor at New York University's Stern School. In brisk prose and catchy illustration...
An unconventional book of wisdom and life advice from renowned business school professor and New York Times bestselling author of The Four Scott Galloway.Scott Galloway teaches brand strategy at NYU's Stern School of Business, but his most popular le...
NEW YORK TIMES BESTSELLER USA TODAY BESTSELLERAmazon, Apple, Facebook, and Google are the four most influential companies on the planet. Just about everyone thinks they know how they got there. Just about everyone is wrong. For al...