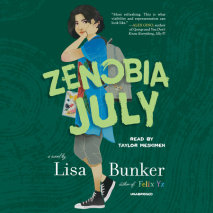 The critically acclaimed author of Felix Yz crafts a bold, heartfelt story about a trans girl solving a cyber mystery and coming into her own.

Zenobia July is starting a new life. She used to live in Arizona with her father; now she's in Maine with her aunts.
"If it wasn't for the fused-with-Zyx thing, I suppose I would just be normal—whatever that means."

When Felix Yz was three years old, a hyperintelligent fourth-dimensional being became fused inside him after one of his father's science experiments went terribly wrong.