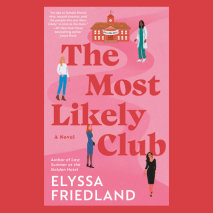 At their milestone high school reunion, a group of friends make a pact to finally achieve their high school superlatives one way or another, in the lively new novel from the acclaimed author of Last Summer at the Golden Hotel. In 1997, grunge is king...
A Good Morning America Buzz PickA Can't-Miss Beach Read For Summer 2021 from The SkimmA Best Beach Read of 2021 from BustleA Best Summer Read of 2021 from PopSugarA family reunion for the ages when two clans convene for the summer at their...
A family vacation dredges up a boatload of trouble in the next witty, insightful novel from the acclaimed author of The Intermission."An irresistible drama filled with humor and heart-tugging emotion about family and what it means to belong. I absolu...
A HelloGiggles Best New ReleaseA PopSugar Best Book of JulyA BookBub Editor's PickA SheReads Best Book of SummerA GoodReads Buzzy New ReleaseA Mind Body Green Best Book of JulyA PureWow Best Beach Read of Summer 2018"An effortless page-turner, almost...