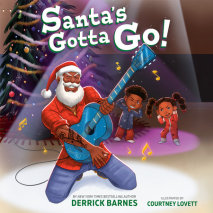 We all know that Santa Claus is one cool dude! But how is he as a houseguest? Find out in this hilarious picture book by bestselling author Derrick Barnes!The number one thing on Monte and Mabel's Christmas wish list is the chance to hang out w...
A confident little Black girl has a fantastic first day of school in this companion to the New York Times bestseller The King of Kindergarten.MJ is more than ready for her first day of kindergarten! With her hair freshly braided and her mom's special...
An upbeat, empowering, important audiobook from the team that created the award-winning Crown: An Ode to the Fresh CutI ama nonstop ball of energy.Powerful and full of light.I am a go-getter. A difference maker. A leader.The confident Black narr...
A confident little boy takes pride in his first day of kindergarten, by the Newbery Honor-winning author of Crown.The morning sun blares through your window like a million brass trumpets.It sits and shines behind your head--like a crown. Mommy s...