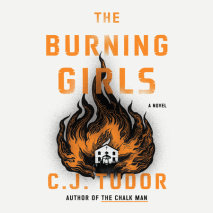 An unconventional vicar moves to a remote corner of the English countryside, only to discover a community haunted by death and disappearances both past and present--and intent on keeping its dark secrets--in this explosive, unsettling thriller from a...
A gripping thriller about a man's quest for the daughter no one else believes is still alive, from the acclaimed author of The Chalk Man and The Hiding Place. An ID Book Club Selection • "C. J. Tudor is terrific. I can't w...
"The Hiding Place is terrific in every way."—Lee Child From the acclaimed author of The Chalk Man comes an unputdownable psychological thriller about a man who returns home to settle old scores—and unc...
"Want to read something good?. . . If you like my stuff, you'll like this."—Stephen King • WINNER OF THE ITW THRILLER AWARD • WINNER OF THE STRAND MAGAZINE AWARD FOR BEST DEBUT NOVELA riveting psychological suspense ...