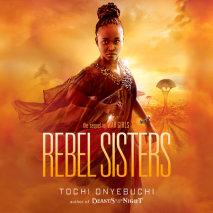 In the epic, action-packed sequel to the "brilliant" (Booklist, starred review) novel War Girls, the battles are over, but the fight for justice has just begun.It's been five years since the Biafran War ended. Ify is now nineteen and living where she...
Two sisters are torn apart by war and must fight their way back to each other in a futuristic, Black Panther-inspired Nigeria.The year is 2172. Climate change and nuclear disasters have rendered much of earth unlivable. Only the lucky ones have escap...
In the sequel to the acclaimed Beasts Made of Night, Taj has escaped Kos, but Queen Karima will go to any means necessary--including using the most deadly magic--to track him down.Taj is headed west, but the consequences of leaving Kos behind confron...
"...The beginning of a great saga..." —NPR.org"This compelling Nigerian-influenced fantasy has a wonderfully unique premise and lush, brilliant worldbuilding that will consume you until the last page."—Buzzfeed"...Unforgettable in its dar...