Brought to life by Meryl Streep and a full cast, this beloved book by E. B. White, author of Stuart Little and The Trumpet of the Swan, is a classic of children's literature that is "just about perfect."*Some Pig. Humble. Radiant. These are the words...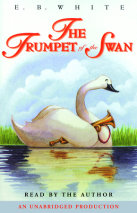 Louis is a Trumpeter Swan, but he has no voice. Though he is frightened when his father explains to him that he is different from the other cygnets, Louis is resourceful and determined. Leaving his wild and beautiful home, he finds a young human frie...
Since its publication in 1952, Charlotte's Web has become one of America's best-loved children's books. For fifty years, this timeless story of the pig named Wilbur and the wise spider named Charlotte who saved him has continued to warm the hearts of...
Stuart Little is a shy, philosophical mouse witha big heart and a taste for adventure. He also happens to be the second son born to the Littles, a human family living in New York City. In spite of his dimunuitive statue-barely two inches tall--Stua...