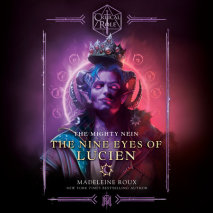 Delve into the mind of Critical Role's most charming villain in this original novel that chronicles Lucien's early life and his fateful meeting with the Mighty Nein. Lucien has always been able to spin a bad situation to his advantag...
A woman trapped in a loveless engagement joins forces with a mysterious man bent on vengeance against her fiancé in this lively tale of intrigue, revenge, and romance. What would you propose? Clemency Fry has always been certain that marr...
"Wickedly smart, devious as hell, and lightning fast." -Jonathan Maberry, New York Times bestselling author "A suspenseful and disturbing sci-fi thriller about the interweaving nature of trauma, memory, and identity."&mdash...
An all-new official prequel novel to Shadowlands, the next expansion for Blizzard Entertainment's legendary online game World of Warcraft "The Horde is nothing!" With those infamous words, Sylvanas Windrunner betrayed...
A WOMAN ON THE RUN. A CAPTAIN ADRIFT IN SPACE. ONE OF THEM IS INFECTED WITH AN ALIEN PARASITE. In this dark science fiction thriller, a young woman must confront her past so the human race will have a future.Rosalyn Devar is on the run from her ...