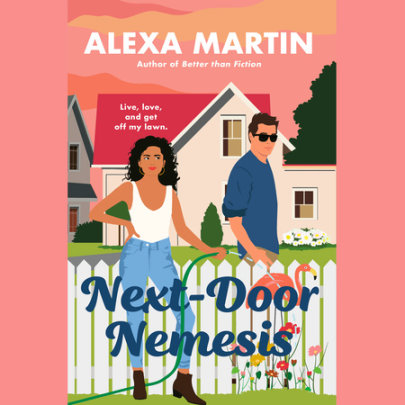 Two rival candidates for a homeowner's association presidency are about to find out how dirty suburbanites fight in this steamy new romantic comedy from Alexa Martin. After years of hustling, Collins Carter has finally made it...back to her par...
"If you think life is better than fiction, then you haven't read Alexa Martin's fiction."—NPROne of... Amazon's Best Romances of NovemberBuzzfeed's New Romances to Read This FallCosmopolitan's Best Books Coming Out In November...
"The kind of book that's destined to be passed from friend to friend."—PopSugarTwo best friends say "I do" to living together, for better or worse, in this bold women's fiction novel from Alexa Martin.Jude Andrews is famous. Well, at leas...
One of PopSugar's Best Romances of OctoberWith the stakes this high, it's no longer just a game for the Mustang's quarterback in this romance by the author of Blitzed. Elliot Reed is living her best life—or pretending to. She o...
One of Buzzfeed's 16 Romantic Books To Read This FallOne of Popsugar's Best Books for WinterOne of Refinery29's Best Books of December"Definitely a must-read!"—La La Anthony, New York Times bestselling authorMaxwell Lewis has to make the ...
One of NPR's Best Books of 2019A second chance doesn't guarantee a touchdown in this new contemporary romance from the author of Intercepted.Single-mother Poppy Patterson moved across the country when she was sixteen and pregnant to find a new normal...
Series in development with Starz & G-Unit Films and Television by 50 Cent and La La AnthonyOne of NPR's Best Books of 2018An Amazon Best Romance of 2018 PickAn iBooks "Best of September" PickA GoodReads Best of the Month pick for Sept...