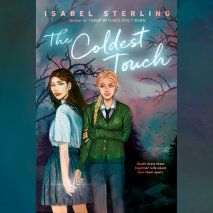 From the author of These Witches Don't Burn comes another paranormal romance for fans of Richelle Mead and Stephenie Meyer.Elise Beaumont is cursed. With every touch, she experiences exactly how her loved ones will die. And after her brother's death&...
In this gripping, romantic sequel to These Witches Don't Burn, Hannah must work alongside her new girlfriend to take down the Hunters desperate to steal her magic.Hannah Walsh just wants to finish high school.It's her senior year, so she should...
"Infused with page-turning suspense, bittersweet romance, shocking twists, and tragic turns, Sterling has written a standout debut." --Dana Mele, author of People Like UsHannah's a witch, but not the kind you're thinking of. She's the real deal, an E...