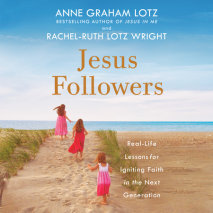 The daughter and granddaughter of Billy Graham offer a warm and inspiring glimpse into their family life, sharing stories that reveal spiritual wisdom and practical insight for raising the next generation of Jesus Followers.In order to instill truth ...
ECPA BESTSELLER • The beloved Bible teacher and daughter of Billy Graham shares a rich treasury of her personal prayers to guide you into deeper, more intimate daily conversations with God. Why is it that as soon as we bow our heads to pray...
The internationally recognized Bible teacher and daughter of Billy Graham unpacks key biblical truths wrapped in personal insights to reveal how the presence of the Holy Spirit shapes the daily life of a Jesus follower.In Jesus in Me, Anne ...