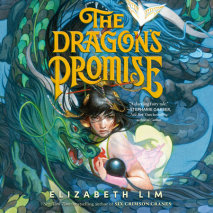 From the New York Times Bestselling author of Six Crimson Cranes comes the thrilling next adventure! A journey to the kingdom of dragons, a star-crossed love, and a cursed pearl with the power to mend the world or break it... Fans of Shadow and Bone ...
NEW YORK TIMES BESTSELLER • A princess in exile, a shapeshifting dragon, six enchanted cranes, and an unspeakable curse... Drawing from fairy tales and East Asian folklore, this original fantasy from the author of Spin the Dawn is perfect f...
From the New York Times bestselling author of Six Crimson Cranes comes a fantasy filled with courtly intrigue, deceitful demons, and breathtaking gowns ... the stakes are higher than ever in this thrilling sequel to Spin the Dawn!Maia Tamarin's journ...
Project Runway meets Mulan in this sweeping fantasy about a teenage girl who poses as a boy to compete for the role of imperial tailor and embarks on an impossible journey to sew three magic dresses, from the sun, the moon, and the stars. And don&rsq...