This audio collection includes:Shiloh:Marty will do anything to save his new friend Shiloh in this Newbery Medal–winning novel from Phillis Reynolds Naylor.When Marty Preston comes across a young beagle in the hills behind his home, it's love a...
From Newbery Award winner Phyllis Reynolds Naylor comes a witty tale of the Wild West filled with comical cliffhangers and featuring a cast of plucky orphans and dastardly villains. Emily Wiggins is poor and timid, without a drop of self-confide...
When push comes to shove, two Kentucky girls find strength in each other.Ivy June Mosely and Catherine Combs, two girls from different parts of Kentucky, are participating in the first seventh-grade student exchange program between their schools. The...
There's nothing eleven-year-old Marty Preston enjoys more than spending time up in the hills behind his home near Friendly, West Virginia.But this time is different. This time Marty sees a young beagle on the road past the old Shiloh school-house.Mar...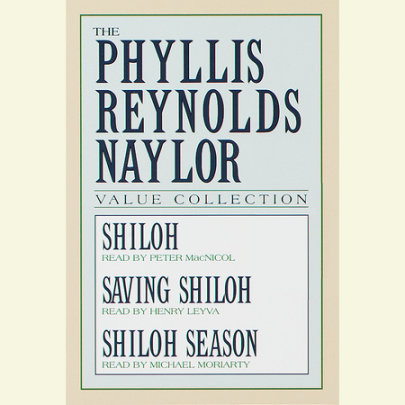 ShilohEleven-year-old Marty Preston loves to spend time up in the hills behind his home near Friendly, West Virginia. But one summer Sunday, Marty comes across something different on the road just past the old Shiloh schoolhouse-a young beagle-and t...
In Saving Shiloh, Phyllis Reynolds Naylor brings to a conclusion the trilogy begun with the Newbery Medal winner Shiloh and its sequel, Shiloh Season. Judd Travers is physically on the mend from the truck accident that nearly took his life in Shiloh ...
After Marty Preston worked so hard to earn the dog Shiloh, he had hoped that his troubles with Judd Travers were over. He could not rescue all the dogs that Judd mistreated, but since Shiloh was the one who ran away and came with him, Shiloh was the ...