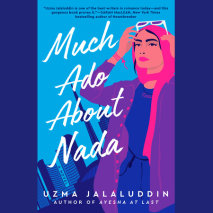 A sparkling second-chance romance inspired by Jane Austen's Persuasion...   Nada Syed is stuck. On the cusp of thirty, she's still living at home with her brothers and parents in the Golden Crescent neighbourhood of Toronto, resolute...
One of Amazon's Best Romances of the Month!For fans of "You've Got Mail," a young woman juggles pursuing her dream job in radio while helping her family compete with the new halal restaurant across the street, in this sparkling new rom-com by t...
As seen on The Today Show! One of the best summer romance picks!One of Publishers Weekly Best Romance Books of 2019!A modern-day Muslim Pride and Prejudice for a new generation of love.Ayesha Shamsi has a lot going on. Her dreams of being a poet...