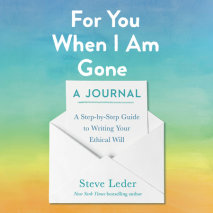 A beautiful keepsake journal inspired by For You When I Am Gone to help you create your own ethical will.In For You When I Am Gone, Rabbi Steve Leder taught us how to write an ethical will, a letter to our loved ones that helps them understand what w...
From the bestselling author of The Beauty of What Remains, a guide to writing a meaningful letter about your life.Writing an ethical will, a document that includes stories and reflections about your past, is an ancient tradition. It can include ...
The national bestseller From the author of the bestselling More Beautiful Than Before comes an inspiring book about loss based on his most popular sermon.As the senior rabbi of one of the largest synagogues in the world, Steve Leder has learned ...