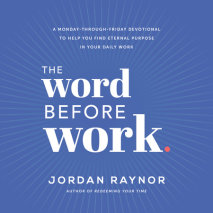 A weekday devotional to help Christians connect the gospel to their vocation and appreciate the eternal significance of their work—no matter what it is—from the entrepreneur, thought leader, and bestselling author of Redeeming Your T...
With engaging rhyme, this audiobook sparks listeners' imaginations with the big idea that God created human beings to make, model, and work like Him.The Creator in You is a book that children, graduates, and even many adults will treasure for a lifet...
Manage your time the way Jesus managed his with a biblical antidote to swamped to-do lists and hurried schedules."A highly practical road map."—Mark Batterson, New York Times bestselling author and lead pastor of National Community ...
What is your one thing? The entrepreneur, thought leader, and best-selling author of Called to Create offers a refreshing invitation: stop trying to do it all so you can thrive in your unique, God-given work. "A compelling case for em...