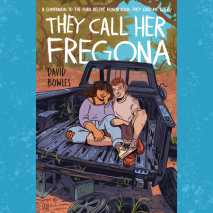 A companion to the Pura Belpré Honor book They Call Me Güero"You can be my boyfriend." It only takes five words to change Güero's life at the end of seventh grade. The summer becomes extra busy as he learns to ...
A Spanish-language edition of My Two Border Towns, a picture book debut by award-winning author David Bowles, adapted for audio.Un sábado por la mañana, un niño se prepara para un viaje al Otro Lado / the Other Side. Está ...
La vida de un niño nacido en la frontera no es fácil, pero Güero sabe cómo hacerle frente: escribiendo poemas. Güero tiene doce años y es mexicano y americano al mismo tiempo. Sabe sentirse en casa en ambos lados...
A picture book debut, adapted for audio, by an award-winning author about a boy's life on the U.S.-Mexico border, visiting his favorite places on The Other Side with his father, spending time with family and friends, and sharing in the responsibility...
An award-winning novel in verse about a boy who navigates the start of seventh grade and life growing up on the border the only way that feels right—through poetry.They call him Güero because of his red hair, pale skin, and freckles. Somet...
Pura Belpré Honor-winning author David Bowles joins Newbery Honor-winning Adam Gidwitz as co-author of the newest Unicorn Rescue Society adventure, as the kids travel to the U.S.-Mexican border to help the legendary chupacabras.A new adventure...