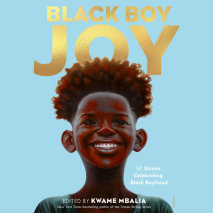 Celebrate the joys of Black boyhood with stories from seventeen bestselling, critically acclaimed Black authors--including Jason Reynolds (the Track series), Jerry Craft (New Kid), and Kwame Mbalia (the Tristan Strong series)!Black boy joy is…...
Bestselling author Rick Riordan presents the second book in the New York Times best-selling Tristan Strong trilogy by Kwame Mbalia. Tristan Strong, just back from a victorious but exhausting adventure in Alke, the land of African American f...
Best-selling author Rick Riordan presents Kwame Mbalia's epic fantasy, a middle grade American Gods set in a richly-imagined world populated with African American folk heroes and West African gods.Seventh grader Tristan Strong feels anything but stro...