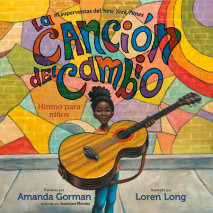 Un lírico libro debut para niños por la poeta inaugural presidencial Amanda Gorman y el ilustrador #1 superventas del New York Times Loren Long."Escucho el zumbido del cambio.Es una ruidosa y orgullosa canción...
The instant #1 New York Times, Wall Street Journal, and USA Today bestsellerThe breakout poetry collection by #1 New York Times bestselling author and presidential inaugural poet Amanda GormanFormerly titled The Hill We Climb and Other Poem...
A lyrical audiobook from presidential inaugural poet Amanda Gorman and #1 New York Times bestselling illustrator Loren Long   "I can hear change humming In its loudest, proudest song. I don't fear change coming, And so I sing along."   In t...
Amanda Gorman's powerful and historic poem "The Hill We Climb," read at President Joe Biden's inauguration "Stunning." —CNN  "Dynamic." —NPR "Deeply rousing and upliftin...