Whether or not you believe in fate, or luck, or love at first sight, every romance has to start somewhere. MEET CUTE is an anthology of original short stories featuring tales of "how they first met" from some of today's most popular YA authors.Listen...
The #1 New York Times bestseller and National Book Award Finalist from the bestselling author of Everything, Everything will have you falling in love with Natasha and Daniel as they fall in love with each other.Natasha: I'm a girl who believes ...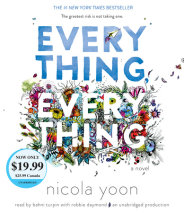 Risk everything . . . for love with this #1 New York Times bestseller. What if you couldn't touch anything in the outside world? Never breathe in the fresh air, feel the sun warm your face . . . or kiss the boy next door? In...