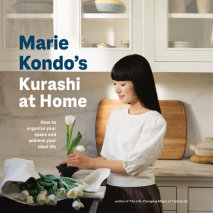 From the #1 bestselling sensation and Netflix star comes her inspirational visual guide to elevating the joy in every aspect of your life, with more than 100 photographs of the Marie Kondo lifestyle.Inspired by the Japanese concept of kurashi, or "wa...
International tidying superstar and New York Times bestselling author Marie Kondo brings her unique method to young readers in this charming audiobook about how tidying up creates space for joy in all parts of your life. The KonMari Method inspires a...
Japanese decluttering guru Marie Kondo's The Life-Changing Magic of Tidying Up has revolutionized homes—and lives—across the world. Now, Kondo presents an illustrated guide to her acclaimed KonMari Method, with step-by-step fol...