The New York Times bestseller.

From the #1 New York Times bestselling author of This Town, an equally merciless probing of America's biggest cultural force, pro football, at a moment of peak success and high anxiety

Like millions of Americans, Mark Leibovich has spent more of his life tuned into pro football than he'd care to admit.
Author of the groundbreaking #1 New York Times bestseller This Town, Mark Leibovich returns with a masterly collection of portraits of Washington's elite, and wannabe elites. Hailed by The Washington Post as a "master of the political profile," Leibovich has spent his career writing memorable, buzz-worthy, and often jaw-dropping features about politicians and other notables.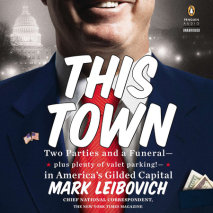 One of the nation's most acclaimed journalists, the New York Times' Mark Leibovich, presents a blistering, penetrating, controversial--and often hysterical--look at Washington's incestuous "media industrial complex."