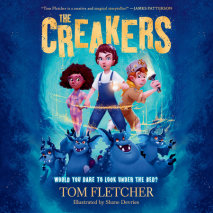 At night, this mischievous bunch peeks out from under your bed. When you hear that creak . . . creak . . . THE CREAKERS are there! Discover a hilarious and eerie middle-grade story by a UK star.What would you do if you woke up to a world with no gro...
She survived against all odds. The first girl born in fifty years. They called her EVE.Scythe meets The Handmaid's Tale in this gripping new dystopian trilogy written by UK-bestselling authors Tom and Giovanna Fletcher.On the first day, no one really...
Why settle for a pony or a puppy for Christmas when you could have a dinosaur? A rollicking adventure from singer-songwriter and YouTuber Tom Fletcher.Once upon a time--long, long ago, when dinosaurs roamed the Earth--an egg rolled away from its moth...