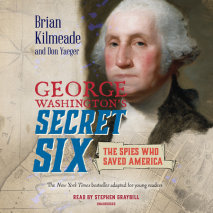 A page-turning middle-grade adaptation of the New York Times bestseller about George Washington's top-secret spy ring that helped defeat the British.

The American Revolution is well under way in 1776, but things are looking bleak for General George Washington and his Continental Army.
"Another blockbuster. Thomas Jefferson and the Tripoli Pirates reads like an edge-of-your-seat, page-turning thriller. You will love this book and also wonder why so few people know this story. No one captures the danger, intrigue, and drama of the American Revolution and its aftermath like Brian Kilmeade and Don Yaeger.
Another history pageturner from the authors of the #1 bestsellers George Washington's Secret Six and Thomas Jefferson and the Tripoli Pirates.

The War of 1812 saw America threatened on every side. Encouraged by the British, Indian tribes attacked settlers in the West, while the Royal Navy terrorized the coasts.
"As a Long Islander endlessly fascinated by events that happened in a place I call home, I hope with this book to give the secret six the credit they didn't get in life. The Culper spies represent all the patriotic Americans who give so much for their country but, because of the nature of their work, will not or cannot take a bow or even talk about their missions.