The heart-pounding conclusion to the daring Smoke Thieves trilogy.In this conclusion to the epic Smoke Thieves trilogy, the world has erupted into all-out war. King Aloysius is mining powerful demon smoke and using it to fuel an unstoppable army of c...
The epic, magical saga of royalty, romance, and violence continues.A princess. A soldier. A servant. A demon hunter. A thief. When we last saw them, this unlikely group was heading into the Northern Territory of the kingdom of Pitoria, on the run fro...
Unforgiveable betrayals, devious motives, and forbidden love collide in the first installment of internationally bestselling author Sally Green's epic new fantasy series, perfect for Game of Thrones fans.   In a land tinged with magic and...
The magical, stunning conclusion to the internationally acclaimed Half Bad trilogy--now available in more than 50 countries. The Alliance is losing. Their most critical weapon, seventeen-year-old witch Nathan Brynn, has killed fifty-two people, and y...
"You will have a powerful Gift, but it's how you use it that will show you to be good or bad."In a modern-day England where two warring factions of witches live amongst humans, seventeen-year-old Nathan is an abomination, the illegitimate son o...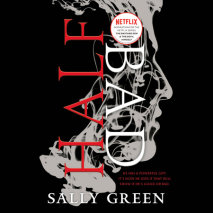 In modern-day England, witches live alongside humans: White witches, who are good; Black witches, who are evil; and sixteen-year-old Nathan, who is both. Nathan's father is the world's most powerful and cruel Black witch, and his mother i...