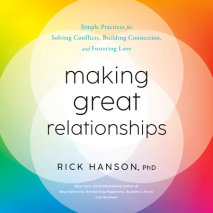 50 simple yet powerful practices for improving all your relationships just by changing what you think and say, based on the latest findings in neuroscience, mindfulness, and positive psychology, from the New York Times bestselling author of Neurodhar...
"This deeply researched and compassionate guide offers an easy-to-follow road map for creating day-to-day inner peace in today's increasingly complex world."—Lori Gottlieb, New York Times bestselling author of Maybe You Should...
These days it's hard to count on the world outside. So it's vital to grow strengths inside like grit, gratitude, and compassion—the key to resilience, and to lasting well-being in a changing world.  True resilience is much more...
With New York Times bestselling author, Dr. Hanson's four steps, you can counterbalance your brain's negativity bias and learn to hardwire happiness in only a few minutes each day. Why is it easier to ruminate over hurt feelings than it is to ba...