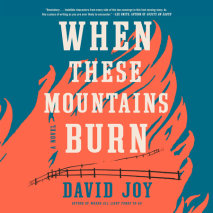 Acclaimed author and "remarkably gifted storyteller" (The Charlotte Observer) David Joy returns with a fierce and tender tale of a father, an addict, a lawman, and the explosive events that come to unite them.When his addict son gets in deep with his...
From critically acclaimed author David Joy comes a remarkable novel about the cover-up of an accidental death, and the dark consequences that reverberate through the lives of four people who will never be the same again.When Darl Moody went hunting a...
Critically acclaimed author David Joy, whose debut, Where All Light Tends to Go, was hailed as "a savagely moving novel that will likely become an important addition to the great body of Southern literature" (The Huffington Post), returns...
"Lyrical, propulsive, dark and compelling. Joy knows well the grit and gravel of his world, the soul and blemishes of the place."--Daniel WoodrellIn the country-noir tradition of Winter's Bone meets 'Breaking Bad,' a savage and beautiful story of a y...