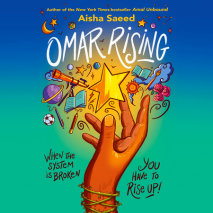 In this compelling companion to New York Times bestseller Amal Unbound, Amal's friend Omar must contend with being treated like a second-class citizen when he gets a scholarship to an elite boarding school.Omar knows his scholarship to Ghalib Academy...
The world's #1 female Super Hero, Wonder Woman, is back in another breathtaking adventure! This time, Diana will travel to the Underworld to take on Hades--but will she make it out alive?After Diana thwarts a stunning attempt to defeat the Amazons an...
Warrior. Princess. Hero. Diana's destiny is to be the world's greatest female super hero... if she can survive this action-packed adventure!Young Princess Diana is fierce and whip-smart, and she loves her island home of Themyscira. Her deepest wish i...
"A wonderfully complex love story unlike any you've read before. Saeed has given a novel that is both entertaining and important."—Matt de la Peña, New York Times bestselling authorThis heart-wrenching novel explores what it ...
"Saeed's timely and stirring middle-grade debut is a celebration of resistance and justice."--Kirkus Reviews, starred reviewThe compelling story of a girl's fight to regain her life and dreams after being forced into indentured servitude.Life is quie...