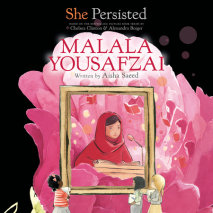 Inspired by the #1 New York Times bestseller She Persisted by Chelsea Clinton and Alexandra Boiger comes a chapter book series, adapted for audio, about women who spoke up and rose up against the odds--including Malala Yousafzai!Growing up as a girl ...
The world's #1 female Superhero saves the world from a cunning villain in the final installment of the Wonder Woman Adventures trilogy! Pre-teen Diana travels to the mortal realm for the first time ever to fight against the evil force stealing the po...
"Irresistibly appealing and genuinely inspiring—a story that helps us to see the world more clearly, and to see ourselves as powerful enough to change it." —Rebecca Stead, author of Newbery Award Winner When You Reach MeIn thi...
The world's #1 female Super Hero, Wonder Woman, is back in another breathtaking adventure! This time, Diana will travel to the Underworld to take on Hades--but will she make it out alive?After Diana thwarts a stunning attempt to defeat the Amazons an...
Warrior. Princess. Hero. Diana's destiny is to be the world's greatest female super hero... if she can survive this action-packed adventure!Young Princess Diana is fierce and whip-smart, and she loves her island home of Themyscira. Her deepest wish i...
"A wonderfully complex love story unlike any you've read before. Saeed has given a novel that is both entertaining and important."—Matt de la Peña, New York Times bestselling authorThis heart-wrenching novel explores what it ...
"Saeed's timely and stirring middle-grade debut is a celebration of resistance and justice."--Kirkus Reviews, starred reviewThe compelling story of a girl's fight to regain her life and dreams after being forced into indentured servitude.Life is quie...