From the bestselling authors of The Go-Giver, Go-Givers Sell More, and The Go-Giver Leader comes another compelling parable about the paradox of getting ahead by placing other people's interests first.The Go-Giver Influencer is a story about two youn...
PLEASE NOTE: This audiobook was previously published under the title It's Not About You.From the acclaimed, bestselling authors of The Go-Giver, a new parable about the power of giving leadership.The family-owned business of Allen & Aug...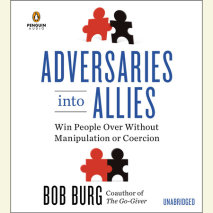 The Sages asked, "Who is mighty?" and answered, "Those who can control their own emotions and make of an enemy a friend."In the bestselling book The Go-Giver, Bob Burg and John David Mann revolutionized the...