"Susan Patron writes honest and true, and this, her final Lucky, feel truest of all. I loved it!"-Kathi Appelt, author of the Newbery Honor Book The Underneath For eleven-year-old Lucky, the universe is full of questions. Is that mys...
From Newbery Award-winning author of The Higher Power of Lucky, comes another gorgeously-written literary middle-grade novel.Lucky makes a new friend, gets stuck in a well, meets up with a wild burro, discards something she didn't know was prec...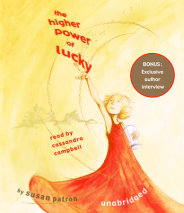 BONUS FEATURE: Exclusive Author Interview Lucky, age ten, can't wait another day. The meanness gland in her heart and the crevices full of questions in her brain make running away from Hard Pan, California (population 43), the rock-bottom onl...