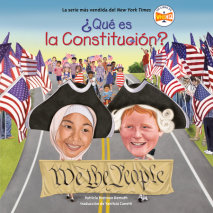 Nosotros, el pueblo de Who HQ, traemos a los lectores la historia completa (argumentos y todo) de cómo surgió la Constitución de los Estados Unidos. We the people at Who HQ bring readers the full story--arguments and all--of...
A terrifying attack! On December 7, 1941, Japanese war planes appeared out of nowhere to bomb the American base at Pearl Harbor in Hawaii. It was a highly secretive and devastating attack: four battleships sunk, more than two thousand servicemen died...
You've probably seen her on T-shirts, mugs, and even tattoos. Now that famous face graces the cover of this Who Was? book.Justice Ruth Bader Ginsburg was famous for her stylish collars (called jabots) and her commanding dissents. This opera-loving Ne...
We the people at Who HQ bring readers the full story--arguments and all--of how the United States Constitution came into being. Signed on September 17, 1787--four years after the American War for Independence--the Constitution laid out the supreme la...
Laura Ingalls Wilder's Little House books, based on her own childhood and later life, are still beloved classics almost a century after she began writing them. Now young readers will see just how similar Laura's true-life story was to her books. Born...
Like Michelangelo, Galileo is another Renaissance great known just by his first name--a name that is synonymous with scientific achievement. Born in Pisa, Italy, in the sixteenth century, Galileo contributed to the era's great rebirth of knowledge. H...