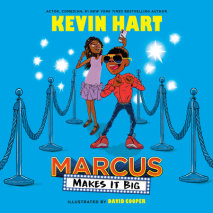 From celebrity author Kevin Hart comes the laugh-out-loud highly illustrated sequel to Marcus Makes a Movie about a young boy who has big Hollywood dreams--and the hustle to make it happen."Everybody, grab a ticket and run for a front row seat to Mar...
Stand-up comedian and Hollywood box-office hit Kevin Hart keeps the laughs coming in a middle-grade novel about a boy who has big dreams of making a blockbuster superhero film. Perfect for readers of James Patterson's Middle School series and Lincoln...
Imagine being forced to move to a new planet where YOU are the alien! From the creator of the Tapper Twins, New York Times bestselling author Geoff Rodkey delivers a topical, sci-fi middle-grade novel that proves friendship and laughter can transcend...