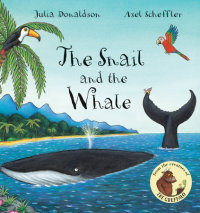 From the creators behind The Gruffalo is a delightful tale of adventure and friendship with Julia Donaldson's trademark rhyming text and Axel Scheffler's brilliant, characterful illustrations When a tiny snail meets a humpback whale, the tw...
This fun family read-aloud is a story of quick wits, friendship, and inclusivity from the creators of The Gruffalo! The witch and her cat are happily flying through the sky on a broomstick when the wind picks up and blows away the witch's h...
Read by Imelda Staunton, this audiobook edition of The Gruffalo--which includes a song and read-along track--brings to life the animals that live in the deep, dark wood....A mouse is taking a stroll through the deep, dark wood when along comes a hung...
Read by Imelda Staunton, The Gruffalo's Child is the best-selling, much-loved sequel to the worldwide phenomenon that is The Gruffalo. This audiobook edition also includes a song and a read-along track.One night, the Gruffalo's child wanders into the...