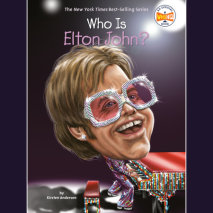 How does a little boy from the London suburbs named Reginald Kenneth Dwight grow up to become one of the biggest pop stars of all time? A lot of talent and a lot of personality! Elton John, as he would later call himself, started playing piano at the...
The inspiring story of the youngest woman ever elected to Congress, told in the new Who HQ Now format for trending topics.On June 26, 2018, twenty-eight-year-old Alexandria Ocasio-Cortez, a bartender from New York City, became the youngest woman...
How did a New York printer become one of the most influential poets of all time? Find out in this addition to the Who HQ library!Walt Whitman was a printer, journalist, editor, and schoolteacher. But today, he's recognized as one of America's foundin...
The inspiring story of Vice President Kamala Harris told in the new Who HQ Now format for trending topics.On November 7, 2020, Kamala Harris, a senator from California, became the first woman and the first African-American and South Asian-Americ...
Grab your Js and hit the court with this Who Was? biography about NBA superstar Michael Jordan.Meet the man who changed the game forever. Michael Jordan has always been competitive--even as a young boy, he fought for attention. His need to be the bes...
Best known for his screen prints of soup cans and movie stars, this shy young boy from Pittsburgh shot to fame with his radical ideas of what "art" could be. Working in the aptly named "Factory," Warhol's paintings, movi...