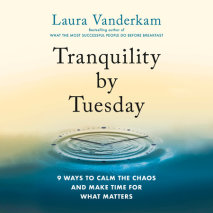 "An indispensable manual...Tranquility by Tuesday offers plenty of inspiration for a more serene life, and down-to-earth and evidence-backed advice for actually making it happen."--Oliver Burkeman, New York Times bestselling author of Four Thou...
Drawing on her 18 years of experience working remotely, plus original interviews with managers, employees, and free agents who've perfected their remote routines, Laura Vanderkam shares strategies for productivity, creativity, and health in the new c...
A charming, life-changing fable that will help you rethink your whole approach to time, priorities, and possibilities.Riley Jenkins is in trouble. An ambitious, hardworking consultant in her late twenties, she's used to a lifetime of nearly perfect e...
"I well recall a conversation with an executive I hoped to interview about her astonishing productivity. I began our call with an assurance that I would not take much of her time. She laughed. 'Oh, I have all the time in the world,' she said."Most of...
From the bestselling author of What the Most Successful People Do Before Breakfast, powerful insights from 1001 actual days in the lives of high-achieving women.Balancing work and family life is a constant struggle, especially for women with chi...