A book about life, loss, and the secrets families keep, reminiscent of Sharon Creech's Walk Two Moons, by National Book Award nominee Lisa Graff.CJ's Aunt Nic is a psychic medium who tours the country speaking to spirits from Far Away, passing on mes...
Kids vs. parents! An epic treehouse sleepover! An awesome group of friends! An exciting new book from National Book Award finalist Lisa Graff.Winnie's last day of fourth grade ended with a pretty life-changing surprise. That was the day Winnie'...
One of the finest novelists of her generation, National Book Award nominee Lisa Graff returns readers to the world of A Tangle of Knots, where a camp for Talented kids just might be a recipe for disaster.In this magical companion to the National Book...
From the author of A Tangle of Knots and Absolutely Almost, a touching story about a boy who won't let one tragic accident define him.Everyone says that middle school is awful, but Trent knows nothing could be worse than the year he ha...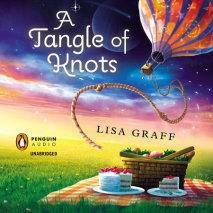 Told in multiple viewpoints, A Tangle of Knots is a magnificent puzzle. In a slightly magical world where everyone has a Talent, eleven-year-old Cady is an orphan with a phenomenal Talent for cake baking. But little does she know that fate has s...