De una autora best seller del New York Times surge este conmovedor y lírico relato sobre el gran artista del escape en la naturaleza, perfecto para los fanáticos del documental ganador del Oscar My Octopus Teacher. El pulpo viví...
From a New York Times bestselling author comes this poignant, lyrical tale about nature's great escape artist—perfect for fans of the Oscar-winning documentary film My Octopus Teacher.The octopus is happy in his undersea cave until one day, a d...
The moving and suspenseful new novel that Ann Patchett calls "smart and thrilling and impossible to put down... the book that every reader longs for.""This summer's undoubtable smash hit… an addictive, heart-palpitating story.&rdqu...
It's 1955, and Benjamin Burrows and Janie Scott are trying to live a safe, normal life in America. It's not easy, when they have the power to prevent nuclear disaster, and sinister forces are circling. Soon the advice of a mysterious, uns...
From one of the most popular and acclaimed story writers of her generation, a single-volume short story from the author of 2017's Do Not Become Alarmed, a beautifully packaged palm-sized gift book."That the yellow house was thrillingly aff...
Two years have passed since Janie Scott last saw Benjamin Burrows, the mysterious apothecary's defiant son who stole her heart. On the other side of the world, Benjamin and his father are treating the sick and wounded in the war-torn jungles of...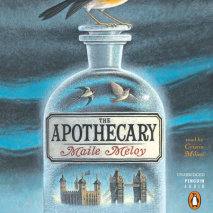 It's 1952 and the Scott family has just moved from Los Angeles to London. Here, fourteen-year-old Janie meets a mysterious apothecary and his son, Benjamin Burrows - a fascinating boy who's not afraid to stand up to authority and dreams of becoming a...