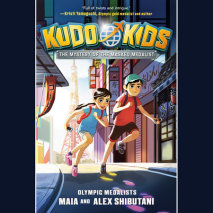 From two-time Olympic bronze medalists Maia and Alex Shibutani comes a fun-filled, fast-paced middle-grade mystery set at the 2020 Tokyo Olympics.Andy and Mika are going to Tokyo! The Kudo Kids have never been to Japan before, so they can't believe t...
Perfect for fans of The Babysitters Club and anyone interested in computer science, this series is published in partnership with the organization Girls Who Code!It's almost time for the talent show at school, and Erin couldn't be more excited. It's h...
A ghost story with a literary heart for fans of Neil Gaiman's Coraline and The Graveyard Book. Theater kids and ghost-story readers alike will find new meaning in the term stage fright.   All great theaters have their ghosts. . . .   ...