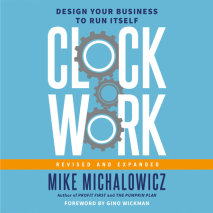 "The missing link that will prepare your business and your mind you for the next stage of business growth." --from the Foreword by Gino Wickman, author of Entrepreneurial Leap and Traction Does your business own you more than you own it? Ar...
From Mike Michalowicz, bestselling author of Profit First, Clockwork, and Fix This Next, a practical and proven guide to standing out in a crowded market.Many business owners are frustrated because they feel invisible in a crowded marketplace. They k...
Each year Americans start one million new businesses, nearly 80 percent of which fail within the first five years. Under such pressure to stay alive—let alone grow—it's easy for entrepreneurs to get caught up in a never-ending cycle...
From Mike Michalowicz, the author of PROFIT FIRST, CLOCKWORK, and THE PUMPKIN PLAN, comes the ultimate diagnostic tool for every entrepreneur.The biggest problem entrepreneurs have is that they don't know what their biggest problem is. If you find yo...
Do you worry that your business will collapse without your constant presence? Are you sacrificing your family, friendships, and freedom to keep your business alive? What if instead your business could run itself, freeing you to do what you love when ...