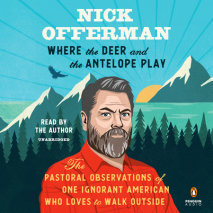 A humorous and rousing set of literal and figurative sojourns as well as a mission statement about comprehending, protecting, and truly experiencing the outdoors, fueled by three journeys undertaken by actor, humorist, and New York Times bestsel...
Spend a rollicking evening with Nick Offerman's All Rise, an evening of deliberative talking, mirth, and song that compels listeners to chuckle while also causing them to contemplate a better side of humanity than the one to which they've grown accus...
Megan Mullally and Nick Offerman reveal the full story behind their epic romance--presented in a series of intimate conversations between the couple.The year: 2000. The setting: Los Angeles. A gorgeous virtuoso of an actress agreed to star in a rando...
After two New York Times bestsellers, Nick Offerman returns with the subject for which he's known best—his incredible real-life woodshop—in a program that includes five original songs.   Nestled among the glitz and gli...
The star of Parks and Recreation and author of the New York Times bestseller Paddle Your Own Canoe returns with a second book that humorously highlights twenty-one figures from our nation's history, from her incept...
Parks and Recreation actor Nick Offerman shares his humorous fulminations on life, manliness, meat, and much more in his first book.Growing a perfect moustache, grilling red meat, wooing a woman—who better to deliver this tutelage than the...