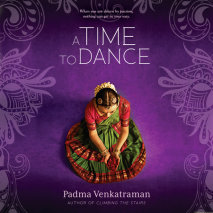 Padma Venkatraman's inspiring story of a young girl's struggle to regain her passion and find a new peace is told lyrically through verse that captures the beauty and mystery of India and the ancient bharatanatyam dance form. This is a st...
"Readers will be captivated by this beautifully written novel about young people who must use their instincts and grit to survive. Padma shares with us an unflinching peek into the reality millions of homeless children live every day but also infuses...
Fifteen-year-old Vidya dreams of going to college— an unusual aspiration for a girl living in British occupied India during World War II. Then tragedy strikes, and Vidya and her brother are forced to move into a traditional household with their...