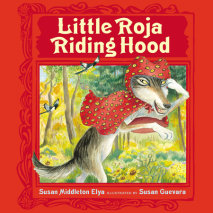 A smart, snappy, bilingual retelling of Little Red Riding Hood Winner of a Pura Belpre Honor for IllustrationWhile Roja picks flowers on the way to her grandma's, a mean wolf sneaks away with her cape to surprise Abuelita. But Grandma'...
Humor abounds in this masterfully-bilingual twist on "The Three Billy Goats Gruff" that dares to ask the question: why is that troll so grumpy anyway?Three little cabritos have a clever plan to get past the grumpiest troll in the land. But then one o...
The Princess and the Pea gets a fresh twist in this charming bilingual retelling, winner of the Pura Belpré Medal for Illustration.El príncipe knows this girl is the one for him, but, as usual, his mother doesn't agree.The queen has a s...