Two young daredevil flyers confront ugly truths and family secrets during the U.S. internment of Japanese citizens during World War II, from the author of The Other Typist and Three-Martini Lunch.

Louis Thorn and Haruto "Harry" Yamada--Eagle and Crane--are the star attractions of Earl Shaw's Flying Circus, a daredevil (and not exactly legal) flying act that traverses Depression-era California.
From the author of the "thrilling" (The Christian Science Monitor) novel The Other Typist comes an evocative, multilayered story of ambition, success, and secrecy in 1950s New York.

In 1958, Greenwich Village buzzes with beatniks, jazz clubs, and new ideas—the ideal spot for three ambitious young people to meet.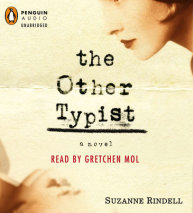 A haunting debut novel set against the background of New York City in the 1920s…

Confessions are Rose Baker's job. A typist for the New York City Police Department, she sits in judgment like a high priestess. Criminals come before her to admit their transgressions, and, with a few strokes of the keys before her, she seals their fate.